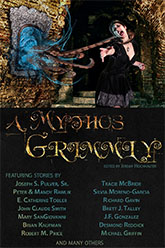 Over the hill and through the woods was never safe to begin with, but now Lovecraftian horrors lurk behind trees, under bridges, and in Grandma's skin.
This anthology takes us from "Once Upon a Time…" to the inevitable, writhing, faceless ends waiting for us all.
With 27 original works by Joseph S. Pulver, William Meikle, Peter Rawlik and many more, you know you're in for a horrifically good time.
Praise for A Mythos Grimmly
"Another deeply satisfying Mythos anthology." -Shadowdenizen on Goodreads
"Excellent read! The quality of this short story collective is rare." -Cmtorrez76 on Amazon.com
"INCREDIBLE read! Highly recommended." -Erica Lucas on Goodreads
Paperback / Hardback
Amazon | Barnes & Noble
THANK YOU to our Kickstarter Supporters!
Kirsty Spencer
Ben Cameron
Matthew Carpenter
Lee Moe
Rhona M Tennant
Andrew Clough
Jesse Oberes
JayHawk
Justin Zimmerman
Kevin Smith
Scott Maynard
Doug Blakeslee
Kristen Hovet
JasonAndrew
Brian Keene
Contesse
Cthulhu Commune
Lydia Helm Nafpliotis
heather
Sam Stoute
Rhiannon Louve
Valerie Tiley
Alec Pappas
Arinn Dembo
Gnoggin
Nathan Filizzi
Stephen Brent McDowell
Chad Anctil
Divina Johnson
Will Hall
mike mcintosh
Nicholas Chavez
Amy Lynn Messner
Ryan Anderson Dean
Hilary
H.P. Lovecraft Film Fest & CthulhuCon
Andrea Kleihege
Lewis Evans
Bob Hattier
Brianna Agnew
Mark Froom
John Martin
Joseph Boutin
Serial007
Kristopher Mallory & J.W. Zulauf
Matthew Rayback
Tim Meakins
Christopher A. Fahlsing
Marc Margelli
Will Ackerman
Russell Smeaton
Vitamancer
Mark Coole
Jax Pierson
Joseph Duchesneau
Jason Leisemann
G.S. Case
Emily Jorrey
Timothy
Alberto Lopez
Chris Johnson
Brian DeMarzo
eric priehs
Aloysius Delapore
Nancy Martin
Bride Florent
Guillaume Viveiros
Melinda Olson
Gavran
Joshua Hair
Brent Yoder
scorpiusoka7
Jessica Schulze
Hailey Duran
Tyler Walker
Stephen Bettles
Ellen Fleischer
Jeff Becker
spacedlaw
Kathryn Sullivan
Diane Severson Mori
Karen Martin Nafpliotis
Ryan Brush
Michael Sims
Mark L
Tom Bither
Tommy Casapueblo
Jen Piatek
Jamie Revell
David Rains
Scott Berke
Leland Eaves
Elena
jason rainwater
Abby Witherell
Debbie Crookston
Mark Martinez
Elan Auman
Timo Zingg
Angeline Burton
Jason Aiken
Laura Trittipoe
Erin Gunderson
Jennifer Kahng
incandescens
Fae Morgan
ron aviles
Scott Bauer
Beth A Lawhead
David
Allen Drees Jr.
Dayna Jones
Amanda
Cassidy Hara
Lisa Deutsch Harrigan
Adam Alexander
Thorin
Mitchell Willie
CorrieHemenway
shadow
Jake Johnson
Kari Ramadorai
Joseph Fernandes
Miskatonic River Press
Araceli Ricardez
Andy Barbieri
Brian McNatt
Eben Brooks
Aoshia
Mark James Featherston
Rich Simmons
Caity Moore
Kieran Cardoza
Ricardo Arredondo
Jim Bellmore
John Blankenship
Mark Barnett
Lea Zukas
Snarkodile
Charles Wilkins
Damien Walters Grintalis
Aaron Vanek
Tymothy
Adam
Tara Moeller
Dan Alban
Christopher Hackney
Ethan Chiang
Paul Cardullo
Kimberly McField
Will Childs
Heather D Bechard
Robert Biskin
Antonio A Rodriguez
Liz Westlake
travis a neisler
Neil Mahoney
Monique
Morgan Markowski
Patricia A. Duplantis
David Zelasco
Michael Moore
Skarsnik Larsen
James-Henry Holland
Clancy Cunningham
Sean McGrath
John OConnor
Brittany Phillips
Steven Zuber
Raven Daegmorgan
Cathy Betchel O'Malley
Wouter Dhondt
Chris Miles
Chris Jarocha-Ernst
Chris
Angela Keeley
Chris Heath
Travis Chapa
Yosef Maayan
thaumaturgan
Ronny Anderssen
Eileen Hendriksen
Chris Smith
Patrick Burdell
Riccardo Sartori
Craig Hackl
Elizabeth Barrial
Ian McFarlin
Tim Ellis
Lauren Phelps
Georgia Michelle Yoder
Heather
Andrew Jack
Patrice Mermoud
Annie Donaldson
Kevin Foster
Tony Southcotte
Courts Towns
Rebecca Romney
Charles Meyer
joe
Vanessa A. Miller
Jaime Will
Abigail R. Gordon
Sara & Chris Martinez
Jenna Venker Weidenbenner
Richard Lantz
LK Hart
Wibble!
Lorenz Thor
Benet Devereux
James pratt
Ross Payton
Jeremy Butler
Aaron Lile
Lester Smith
curtana
Fraydog
Brett Talley
Eric Helgeson
Sven Wiese
Scott Glancy
nyarly23
Connie Theodoropoulos
T.K. Cvetkovic
Michael Feldhusen
Lori Nicole Evans
Marc Severson
Jason Williams
Matt Wiseman
Sarah Helstrom
Harley Jebens
Paul Richardson
Simina A
Ian Paterson
Tyrel Fox
johne
Bryce Undy
Laura Ahlstrom
Christina Lee
Andrew Fisher
Andrew Byers
Dan Conser
Geoffrey Sperl
Kyle Miller
leecachu
Sean Quilty
Kris Leeke
ZMiles
John D
Meghan Euringer
Tim Scott
Kathryn Slater
stephanie wagner
Betsy Abbott
Sabrina Howes
Nathan Morimitsu
Dan Toland
William Mayorga
Timothy Reinhart
Callum Stoner
Danielle Holbein
Edward Sizemore
Ralph D Will
Terry Willitts
Will Hart
Dana
Aaron Nitz
Warren Rumble
Megan Peterson
Ron Neely II
Karrie White
Jesper Anderson
Denise Mercer
Andy Lucas
Michelle Maxfield
SwordFire
ATH
Philip K. Sharp-Garcia
Allan McPherson
Sebastian Ruecker
Christine M Torrez
Richard Lai
lehmann
Tad Kelson
Gary McCluskey
Chris Specker
Sarah Troedson
Mechanomaly
Chris Duncan
Madeleine Riehs
Jennifer Bird
William Merrill
Thomas C McGee III
Marc Burnell
Olivia Niver
Tina Jens
gigglestick
Tim Morgan
Larry
Brian White
Jonathan Grimm
Nicholas Federle
Valerie
Glade Packer
Moria Trent
Aaron Spriggs
Lefebvre
Scott Bowen
Emilie Dionne
Deborah Bonnema Perry
Katherine Valdez
Joe Kontor
Kibeth
Brian Kaufman